Areas of application
The three systems
The AGGABS® logo represents the three main systems, i.e., the nervous, circulatory, and skeletal systems that are activated alone or in combination. The activation of these main systems of the body induces reactions of the other body systems (e.g. digestive, respiratory, etc) and even organs. This reaction helps the body recover and find balance.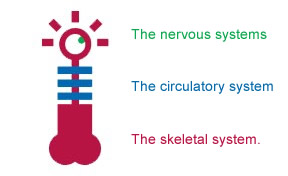 Even though applications are numerous, velocity of results depend on the body's ability to restore its balance.
Dermatology :
| | | | |
| --- | --- | --- | --- |
| Wart | | Dermatosis | |
| Before | After | Before | After |
Types of viral conditions: warts, herpes...
Types of allergic conditions : contact dermatitis, drug eruption, professional dermatosis, atopic dermatitis ...
Expressions of skin rheumatic diseases (psoriasis, lupus), respiratory (sarcoidosis) ...
Contribute to the healing process after surgery, wounds, bruises, hematoma ...
Etc.
Immunological
Allergies : pollen, hay fever, dust mites, food allergies, contact ...
Viral infections : mononucleosis, hepatitis ...
Autoimmune disease: autoimmune thyroiditis
Gastroenterology
Digestive disorders : bloating, distensions, nausea, heartburn, diahrea, constipation
Ulcers, Irritable Bowel, lithase biliary, pancreatitis ....
Endocrine
Thyroid gland: thyroid conditions (hyper and hypothyroiditis), sub-acute granulomatose thyroiditis
subacute thyroiditis symptoms, postpartum thyroiditis
Renal problems, dysfunctions of the adrenal, pituitary
Diabetes ...
Respiratory
Infectious Diseases: Bronchiolitis, acute and chronic bronchitis, acute and chronic sinusitis
Allergic Disorders: asthma, chronic cough
Inflammatory diseases: sarcoidosis
Chronic obstructive and restrictive Diseases: COPD, emphysema, asthma
Musculo-skeletal
Back pain (acute and chronic): neck pain, upper back pain, middle back pain, lower back pain
Radiculopathy: cervical brachial neuralgia, intercostal neuralgia, sciatica
Musculo-skeletal disorders: muscle wasting, loss of strength, cramps, tendinitis, fibromyalgia
Cardiovascular
Venous insufficiency: lower limb oedema, stasis dermatitis, deep vein thrombosis, subjects with phlebitis
Arterial insufficiency: intermittent claudication
Assistance with the cardiac rehabilitation after surgery
Rhumatology
Inflammatory diseases: rheumatoid arthritis, polyarthritis ankylosing spondylitis, reflex sympathetic dystrophy (algoneurodystriphia)
Degenerative diseases: joint pain, joint stiffness
Fibromyalgia ...
Orthopedic
Foot Problems: hallux valgus, hallux rigidus, club-feet, equine feet, varus feet
Knees Problems (varus / valgus), hip, shoulder, elbow ...
Neurological
Migraine and tension headaches
Parkinson's disease, multiple sclerosis
Severe peripheral nerve: carpal tunnel syndrome, polyneuropathy, sensory disturbances, motor disturbances
Problems with attention, hyperactivity, dyslexia, phobias, stress, anxiety, depression
Urogynecological
Urinary system: kidney stones, kidney failure, urinary tract infections
Genital male system: prostatis, erectile disorders
Genital female system: mammary glands, endometriosis, painful periods, fibroids, abnormal cycle ...
Bone system
Contribute to bone regeneration after fracture or operation
Improved bone density, osteoporosis, reflex sympathetic dystrophy